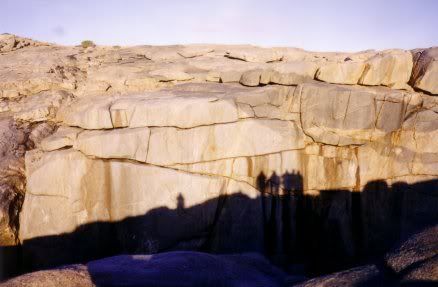 Photograph contributed by Liz
Rejection
As if her casual touch
Is as deadly as her tainted blood.
Daggered stares keep
.............................
her at bay. Even her
Shadow weeps
.............................
alone.
By Alson Teo
(For 5th DPS (S) Poetry Writing Competition)
Afterthought
I truly admire those who took part in the recent NaPoWriMo 2006. A poem a day for 30 days required strong determination and a never-say-die attitude. You do not need to produce world class poems during this period but still they should be presentable.
So how do you write a poem out of nothing?
During the past few weeks I found myself in the same situation. No I didn't take part in NaPoWriMo but I did take part in my own 5th DPS (S) Poetry Writing Competition. And to some extent get a taste of what it would be like if I should particiate in NaPoWriMo.
With a total of 9 submissions and only 2 days before closing date, I decided to participate in the competition. The thing is although all 12 photograhs were selected by me, I just can't seem to establish a connection with them. And with only a day left, I decided to write an acrostic poem. Maybe it is just me but I feel that acrostic poems are more suitable for writing excerice rather than for competition. But with so little time left, what choice do I have?
For this short poem to work, I need to take into consideration its title, content, form, and the photograph. Form has been taken care of since I've decided to write an acrostic poem. All I need to do is to form the word "AIDS" with the first alphabet of each line. Its content is straightforward enough i.e. a poem about isolation and rejection of an AIDS patient by the society. I decided on the title "Rejection" because I think it sums up the poem nicely and reinforces the ending.
Another reason why I decided on an acrostic poem was because I wanted it to be able to stand on its feet i.e. without the photograph.
PS. Liz, is the figure on the left hand side of your photograph a human or a stack of rocks? :)